While the pandemic may have ended, a new market is emerging in China, bringing its own set of challenges. Brands need to adapt to market changes and establish deeper connections with their consumers to truly thrive.
In China, the consumer market has increasingly shifted to an online arena, with brands from around the world, including many in the luxury sector, racing to establish themselves on Chinese online platforms.
However, creating a robust online strategy isn't enough. Chinese consumers are gravitating towards a blend of online and physical presence, and that's where concept stores and pop-ups come into play. These are enhanced and commercially infused "third places" that brands are using to create new retail spaces and entertain customers with immersive experiences.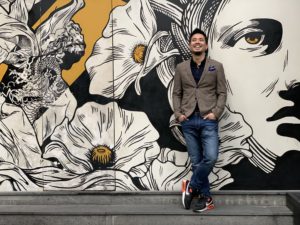 Siu Tang: the founder and Chief Creative Officer of The Orangeblowfish
In an era where brand loyalty is fleeting, the consumer experience should take centre stage. It's no longer just about showcasing products; it's about engaging all six senses – sight, touch, smell, taste, sound, and, our sixth sense, social interactions.
In China, it's strategic to combine offline brand experiences with online marketing to enhance the consumer experience further. This is where The Orangeblowfish comes in. We've curated immersive offline brand experiences for ASICS, YUESAI, LinkedIn, Moxy, W Hotels, and Cartier, among others, always grounded in a deep understanding of the brand and combining art-infused storytelling with innovative technology.
In 2022, we designed pop-up stores for Arc'teryx and Kolon Sport, two brands under the Anta Sports Group, to offer immersive experiences at the prestigious Plaza 66 in Shanghai. These projects directly reflect changes in consumer behaviour, with brands aligning with the trend of infusing urban consumers with more outdoor vitality.
For Kolon Sport, we created an immersive installation inspired by the aurora borealis and recreated a snow camp within Plaza 66's main atrium.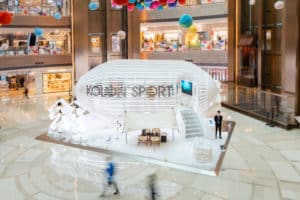 The Orangeblowfish was engaged to design a unique brand experience that would drive an associate between Kolon Sports and a "warmer winter".
For Arc'teryx, we applied the 'six senses' principle to launch the brand's 2022 Spring/Summer collection, System A. We crafted a multi-sensory journey that transported visitors deep into the heart of a forest, away from Shanghai's 'urban jungle.'
At The Orangeblowfish, we challenge ourselves every day to create truly innovative immersive experiences for customers. Before starting each project, we ask ourselves, How can we maximize the use of limited physical spaces to deliver an even more immersive experience? What has not been done before? How can the brand experience we introduce be top of mind for consumers?
Want more awesome content? Check out our blogs and our award-winning work on our Portfolio page.
Do also follow us on LinkedIn and Instagram. If you want to chat about a project, book a consultation now!