Best Brand Experience: The Orangeblowfish is a Finalist at Transform Asia 2023
Transform Asia recognises and rewards best practice in corporate, product and global brand development, with categories focusing on strategy, execution, content and evaluation across the globe. The Orangeblowfish has been named Finalist for Best Brand Experience at Transform Asia 2023 for our client project Arc'teryx Rebird. The award ceremony will be held at W Shanghai on 20th November, 2023.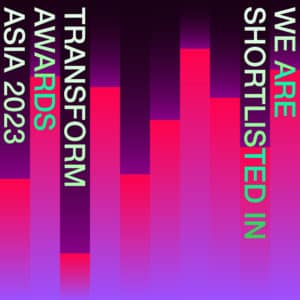 This is the second year The Orangeblowfish has been nominated for this category. In 2022, The Orangeblowfish took home Best Brand Experience – Silver for Moxy Xi'an.
"We are proud to be once again considered best in class at Transform Asia 2023. We are estatic to be nominated for an award for our client project Arc'teryx Rebird. Arc'teryx is always a joy to work with, and we're thrilled to have clients who inspire us to think bigger and deliver truly innovative immersive experiences for communities," said Natalie Lowe, CEO and Founding Partner of The Orangeblowfish.
"Chinese consumers are gravitating towards a blend of online and physical presence, and that's where concept stores and pop-ups come into play. Despite a change in the business landscape, Chinese consumers still want that "wow" factor when it comes to retail experiences. We're proud of our team who won and delivered this project during the one of the most challenging periods during the pandemic," says Siu Tang, Founder and Chief Creative Officer of The Orangeblowfish.
In 2022, the Arc'teryx Rebird campaign was also a finalist in the Global Excellent Award by IIDA for "Best Retail" category.
The full list of the awards can be seen here. Congratulations to all the finalists and good luck!
Want to chat with us about your project? Schedule a call with us today! You can also check out more of our award-winning work, or follow us on Instagram, and LinkedIn.