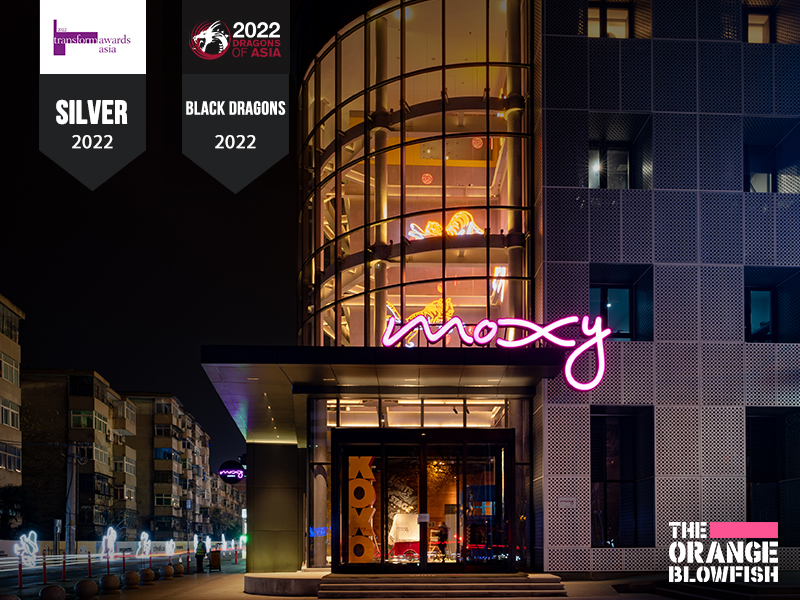 The Orangeblowfish takes home 2nd industry award for Moxy Xi'an
The Transform Awards Asia recognises and rewards best practice in corporate, product and global brand development, with categories focusing on strategy, execution, content and evaluation across the globe. This year's awards ceremony was held in Singapore on 21 November 2022. We are excited to announce that The Orangeblowfish has been recognised as a Silver Winner in the "Best Brand Experience" category.
This is our second award received for Moxy Hotels Xi'an project. It has been recognised as a Black Dragons at the 2022 Dragons of Asia in the "Best Event or Experiential Marketing Campaign" category. 2022 continues to be another amazing year for The Orangblowfish!
"This is our second year entering the Transform Asia Awards and we are extremely pleased to win Silver in the "Best Brand Experience" category. Our Budweiser project was named Highly Commended in the Best Brand Experience category in 2021," commented Natalie Lowe, CEO & Founding Partner of The Orangeblowfish.
"It was super exciting working with Moxy. They are so much fun, and we really enjoyed bringing out their brand DNA in a way that resonates with Xi'an residents," says Siu Tang, Founder and Executive Creative Director of The Orangeblowfish.
"Each award we win, is a testament to our talented team. We are also grateful for the trust and creative autonomy our client Moxy gave us. Congratulations to all the Finalists and Winners!" concluded Siu.
Want to chat with us about your project? Schedule a call with us today! You can also check out more of our award-winning work, or follow us on Instagram, Twitter and LinkedIn.