No doubt, AI is a great tool when it comes to helping out with the daily grind. But there's always this lingering fear around the tech. So, what's the verdict — are creative brains better off with AI or not?
Although Artificial Intelligence is not something new, the remarkable progress it has made in the last two years has really brought it back into the spotlight. But there's something different this time around. Creative professionals, among others, worry that AI might put their skills and livelihoods at risk or pose a threat to their crafts and means of living.
Considering AI's current practical applications, it's clear that it can assist in solving many basic, repetitive, and time-draining tasks — quite a feat, indeed. Still, AI leans heavily on data and human training, falling short when it comes to stepping into the shoes of human thinking, insights, and the finesse needed to craft spot-on strategies.
Concerning all this, a fascinating discussion unfolded during the 'Best Emerging Talent Festival,' recently hosted by The British Chamber of Commerce in Shanghai.With the goal of gathering talent from the creative industries in both the UK and China to showcase skills and build professional networks, the event is organised by the Chamber's Creative Industries and Marketing Committee — where Natalie Lowe, CEO and founding partner of The Orangeblowfish, is the Co-Chair. Most attendees are creative minds spanning branding, design, architecture, film, photography, and so on.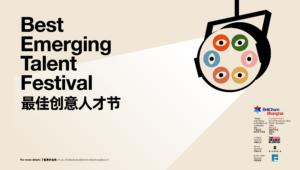 The Orangeblowfish, one of the creative sponsors, took part in the discussion with Founder and Chief Creative Officer Siu Tang sharing his ideas. In his view, there's no denying that AI is becoming a widely used tool among creative individuals, especially with platforms like ChatGPT and Midjourney. At The Orangeblowfish, he said, many designers have gained AI skills to assist in their tasks.

Siu Tang and other members of creative industries discuss the implications of AI in creative work as part of the recent 'Best Emerging Talent Festival' hosted by The British Chamber of Commerce Shanghai.
Helpful info. However, the question remains: can AI truly pose a threat and replace the work of designers?
"AI is still full of surprises. It can enhance efficiency, and we are amazed at how quickly it can generate stunning visuals. But these seemingly 'perfect' works also have limitations. For instance, we once incorporated AI-generated images into a proposal as concept art to explain early-stage ideas to a client. It turned out the client wasn't thrilled with how straightforward the images were," Tang said during the discussion.
He believes AI is a great supplementary tool, capable of assisting and completing projects. But it can't replace the magic that goes on in a designer's head and the human attention to detail. To him, early-stage strategic thinking is still crucial in creative processes; if the direction is wrong from the beginning, all subsequent efforts may be in vain.
Sure, AI brings convenience, but it's also bringing along some copyright fears, which is a major concern for many creative individuals. "There is currently no rulebook for copyrights with AI. For example, works on Midjourney are open for everyone to see, making it hard for the real brains behind the art to protect their original works," Tang said, but he also noted that "everything is still in a relatively early stage of development, and it's likely that there will be better standards in the future."
We've seen it with photography and even the computer; history has taught us powerful new tech usually sparks fear, scrutiny, and expectations. In time, AI will rightfully become a better tool for its objective purpose. Yet, this can only come with ease if everything that surrounds it, regulations and rules included, receives the attention needed — this is the key to enabling harmony between AI and humans.
Want to chat with us about your project? Schedule a call with us today! You can also check out more of our award-winning work, or follow us on Instagram, and LinkedIn.