In our current venture capital landscape, women entrepreneurs still face challenges to overcome, including carrying a gender-related stigma when they do succeed in raising funds. That's why we pose the question: how can the innovation ecosystem move on from old gender-based stereotypes?
In October 2023, TECOM Shanghai, a conference that's part of the Caohejing Hi-Tech Carnival series, poked further progress in the ever-evolving landscape of startups and tech innovators.

Nice to know: The Orangeblowfish designed the wall art graphics for offices at Caohejing Hi-Tech when it was launched.
The event's theme centred around 'Diversity for Innovation,' and one notable highlight was a forum that offered valuable insights from several female entrepreneurs.
Aptly named 'Growing the 2% Club,' the forum shed light on how, according to Forbes and other sources, only 2% of global venture capital is directed toward female-founded enterprises, and, when it is, funds usually come from female investors — meaning women are more likely to invest in other women.
There's a catch, though.
Often, when funding comes exclusively from women investors, there's a general and unfair notion that the success of the startup and of the female founder receiving the investment stems from gender preferences; when such investment comes from a male investor, on the other hand, the woman who receives it is perceived as competent, and the startup is seen as promising.
Therefore, the significance of the 'Growing the 2% Club' forum lies in discussing ways more female entrepreneurs can access resources and investments to grow their ventures and do so without disparity when compared to their male counterparts.
Natalie Lowe, CEO and founding partner of The Orangeblowfish, was one of the participants.
At the TECOM Shanghai 2023 event, Natalie Lowe, CEO and Founding Partner of The Orangeblowfish, took part alongside other female entrepreneurs in insightful forum discussions. The focus was on exploring growth avenues in women entrepreneurship.
Drawing from her experience, she shared insights and strategies for the success of startup companies. Here's the scoop:
Building a killer team is the secret spice
We can recognise a company's employees as its core assets. While they bring value to the organisation, it's also normal that they will prioritise their individual aspirations, such as skill development and professional growth. That's something important to take into consideration when building a team, as well as when drafting clear company values and goals so that employees can see how they fit into the grand scheme of things.
Entrepreneurs should carefully plan the use of funds, calculate returns, and refine the business operation plan as much as possible. This allows investors to foresee the potential and profitability of the enterprise clearly.
An entrepreneur needs to have a well-elaborated business scope. Moreover, focusing on their personal strengths will exude more security and credibility for the enterprise in the eyes of investors.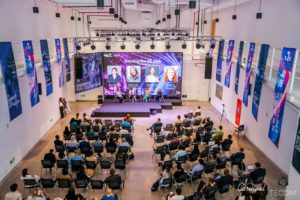 The insights above are valid for all entrepreneurs, but they are even more pertinent to female ones, as they face additional barriers to overcome.
There is still a long way to go in narrowing the gap between men and women in the risk investment ecosystem and public financial markets, but it seems that the waves are beginning to change.
Data from 2022 shows that female-founded teams have performed increasingly well in recent times, which is remarkable considering the recent and current macroeconomic challenges.
There is hope that, in the near future, more and more female entrepreneurs will come forward with a thorough understanding of their businesses, formulate effective growth strategies, and secure more investment funds.
Now is the time for all of us to come together as brave innovators and drive this growth beyond the 2%.
Want to chat with us about your project? Schedule a call with us today! You can also check out more of our award-winning work, or follow us on Instagram, and LinkedIn.