This year's theme for International Women's Day is #Breakthebias. Breaking workplace bias is a priority at The Orangeblowfish and we believe that this means providing equal opportunities and ensuring everyone in our organization feels valued, included, and is contributing to the overall success of our Agency.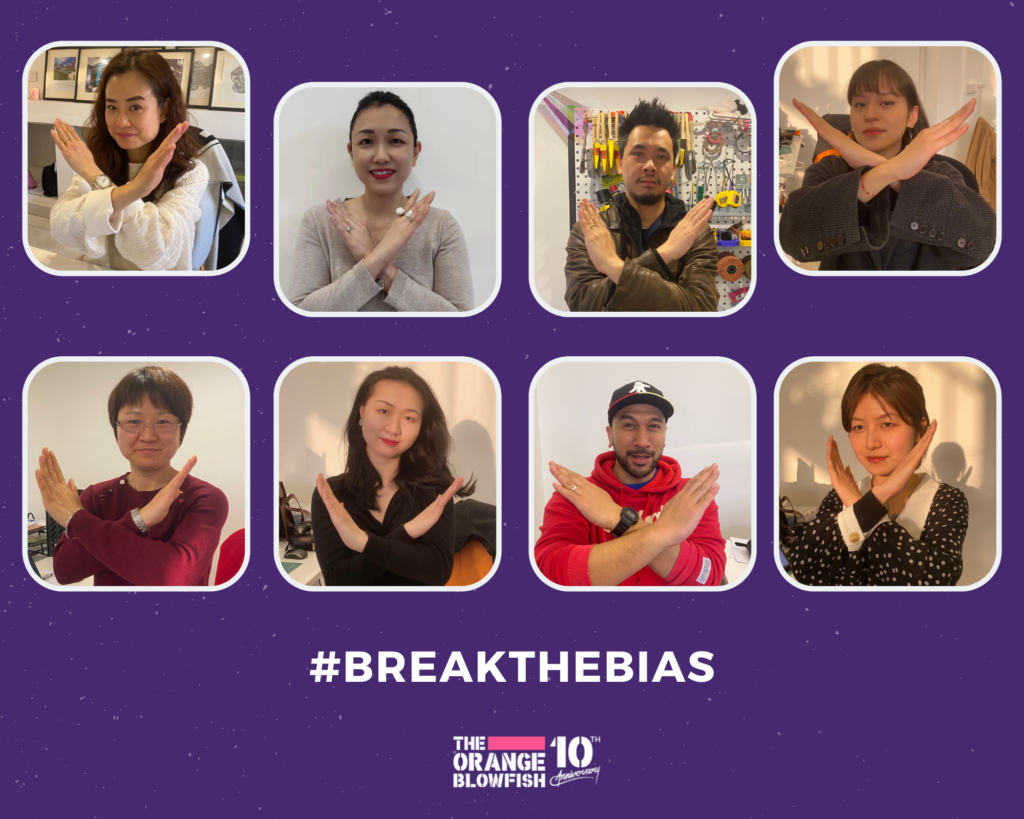 Below are three ways The Orangeblowfish is breaking workplace bias every day:
1. 83% of The Orangeblowfish's employees is female.
The Orangeblowfish is proud to have three women at the head of our company: Natalie Lowe, Managing Partner; Christina Chan, Director of Client Services, and Lammy Xu, Creative Lead. These three strong women have helped us evolve into the company we are today, and we will continue fostering a culture that recruits and retains the best talent, whilst putting in place policies that support gender equality.
"I started with The Orangeblowfish as an intern and am very proud to have grown with the Agency. The Orangeblowfish is an equal opportunity employer, and when I started as an intern, my creative ideas and opinions were always respected and taken into consideration when working on projects."
Lammy Xu, Creative Lead
2. Recognize top talent and offer flexible working options.
Women naturally have a much higher level of responsibility when it comes to family. So, it wasn't a surprise when a report by Lean In and McKinsey & Company, "Women in the Workplace 2020" indicated that women in leadership consider leaving the work force or taking a lower position due to burnout. Traditional working cultures and modes of operation may no longer be suitable in today's post-pandemic situation. Through the force of nature, organizations are implementing tools and resources to help employees work remotely, and to have a better overall life-work balance.
Since the pandemic hit in 2020, The Orangeblowfish has been offering remote and part time work options in roles such as Finance, admin, and marketing which enable individuals still feel a sense of contribution and success without being in the office 100% of the time.
"I joined The Orangeblowfish during the 2020 pandemic, and the Agency offered me a role that enables me to contribute to the success of the company in a meaningful way; and at the same time, I'm able to manage my own personal commitments."
Chris Lee, Finance and Admin
3. Mentoring the Next Generation of Women Leaders
Finding a mentor beyond your workplace enables individuals to receive guidance and support from senior executives without any biases. Everyone needs guidance, but it isn't always easy to find. Natalie Lowe, our managing partner has been a volunteer mentor with Shanghai Women Mentor Walks since 2017 and a volunteer mentor at the University of New South Wales Meet a Mate Program.
"Very early on in my career, I received a lot of mentoring from senior executives at the workplace and from my own personal network. I've been very lucky to receive sound advice, from individuals without any judgement. Hence, I'm a big believer in paying it forward, and mentoring young women who will greatly benefit from mentoring. Bias can come in many forms, and sometimes we need an outsider to call it out for us."
Natalie Lowe, Managing Partner
At The Orangeblowfish, we believe we can do more to support gender equality and offer top performers and the next generation of leaders the right opportunities to succeed at work and on a personal level.
"It's a collective responsibility to smash through biases and crush discrimination. We need to break the bias every day, not just on International Women's Day."
Siu Tang, Founder and Executive Creative Director
As part of our celebration of International Women's Day at The Orangeblowfish, we interviewed a few members of our design team. Check out our Instagram @theorangeblowfish to see what they got to say about #BreakTheBias and other perspectives we have on gender equality.