Teaming up and collaborating with another brand (creating a co-brand)– whether for commercial means, or just to win extra followers on your company's social account, may be the marketing trend in 2020. It already exists within the fashion industry with brands like Fenty x Puma, Victoria Beckham x Reebok, Peacebird x Disney.
Co-branding Finds a New Home in Food
However, we're also seeing that it's becoming a trend across industries as well. For example, Oreo x Supreme, KFC x Crocs… Yes, you read right. Some collabs are a perfect fit. Others … well we're not so sure.
Let's take a look at five collabs and you be the judge:
Co-brand #1 – Supreme Oreo Cookies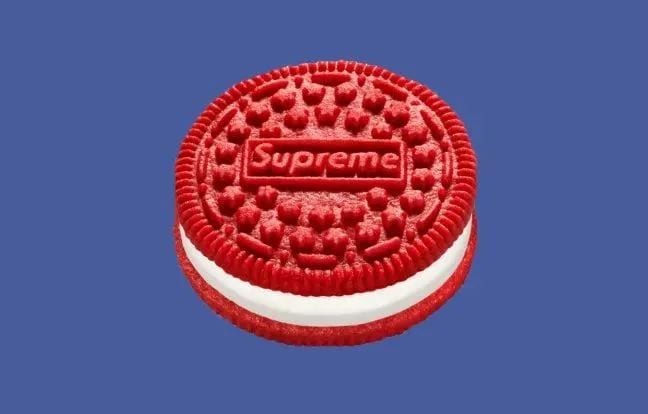 Last month, Supreme teamed up with Oreo to launch "Supreme Oreo Cookies". They revealed this collab as their Spring/Summer 2020 limited product line on their official website. The limited-edition cookie was of course, branded red per Supreme's brand color, with their logo splashed in the middle, in replacement of Oreo's logo. The classic crème-filled cookies came in a pack of three for sale on Supreme's website, and globally across Supreme stores for US$8 per pack.  Within days, bids of up to US$15,000 were made on eBay for these cookies!
Supreme's philosophy is that "we can collab with anyone". Oreo is one of many co-branded partnerships Supreme puts into play every season, and of course this isn't the first collab Oreo has made either.  By chance, do you fancy a Supreme Oreo cookie?
Co-brand #2 – Rick & Morty Donuts 
Enter the wacky world of Rick & Morty x Krispy Kreme Donuts and you get 3 "Rick and Morty" flavored donuts in Australia: Pickle Rick (lemon flavored), Strawberry Smiggles, and Simple Rick's Water Cookie. These limited-edition donuts were available at select stores earlier this year, which you could wash down with a Fleeb Juice-inspired milkshake. Does it make you want to say Wubba Lubba Dub Dub?
Co-brand #3 – Traditional Chinese Medicine Powered Ramen 
In a hard time of epidemic and quarantine, what can possibly bring you more sense of security than food x medicine?  Two local big names teamed up with an idea — instant ramen with TCM benefits. This crossover comes from one Chinese instant noodle brand 拉面说 and a local pharmaceutical company 999感冒灵. Not a conventional "match-made-in-heaven", but what a timely collab opportunity! The ramen is wrapped inside 999's iconic green medicine box, and upon opening the box, gives you the impression that it's really good for you!
Co-brand #4 – McDonald's Candles 
Recently in honor of McDonald's 50th anniversary since the launch of the Quarter Pounder, came a custom set of 6 scented candles in glass containers. These candles were inspired by Quarter Pounder ingredients: Bun, Pickle, Cheese, Onion, Ketchup and 100% Fresh Beef. Burn them together and you got it, they smell like a Quarter Pounder burger. We checked on McDonald's website, and the stock was sold out. I guess a lot of people love relaxing to the smell of a Quarter Pounder. Wonder if these candles will come in Super-Size…
Co-brand #5 – KFC Crocs 
It's called the KFC x Crocs Bucket clog, a limited-edition shoe covered in fried chicken print with two attachable charms that look and smell like chicken. Yes, these are real. Search for #KFCCrocs. Need we say more?
Is co-branding here to stay?
Co-branded partnerships are everywhere. A co-brand partnership can be a great way to rejuvenate your brand, create some positive buzz, and help you get some increased market share. When you join forces with another brand, you benefit from your brand partner's endorsement, and possible receive better brand awareness in a new market segment. When done right, it's a win-win situation!  Interested in a brand collab? If yes, reach out and see how we can support you!
Want more awesome content? Head to our WeChat account (The_orangeblowfish) or hang with The Orangeblowfish on Twitter. Stay tuned for TOBF news and more posts about creative industry topics such as brand storytelling or photo styling!
This post originally appeared on our WeChat account. See the original post here.